Tally Brains is a group of Tally professionals from Industry having experience of Tally working and research of more than 5 years. It is a concept to improve and maintain the quality in Tally Education. Tally Brain's aim is to develop a cadre of Tally professionals as per industry current and future need. We also focus on Overall Development of Students through Skill Development Programs to Provide them a Wealth Secured Future. Tally Brains Focus more on Practical Aspects of Learning. With Professionals on the line, we measure Accuracy in Quality Study at Every Aspect of Class, So as to Bring you a More Comprehensive Level Of Knowledge. We Do Not Support other textbooks, Designed Tally Books From Basic To Payroll, Developed and Compiled By Leading Experts in Tally Domain, In Minimal Price Range.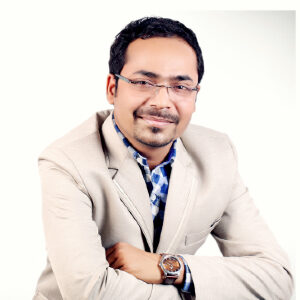 Mr. Ritesh Khetan
Founder & Director
(Technobrains Education Pvt. Ltd.)
Ex. Asst Professor, Accounts Manager, NSDC Certified trainer and Author of 10 Books.
Hello Visitor, First of all I would like to congratulate for visiting us here. This step will change your life now. Life is all about learning. From childhood we are told to learn so that we can earn better. But after almost 15 years of academic almost we are not able to get job. Why???
You are literally not the reason. Don't blame yourself. It's about the academic pattern of schools and colleges are not made to make you employed. It's made to make you educated. Today education and skill are totally different from each other. Education works as backbone of Skill are totally different from each other. Education works as backbone of Skill, but without a proper Skill, you can't survive in life.
Here I would like to give you my example, on 7th may 2013, I started a small tally training center with merely 10 systems. That time I was working as Accounts Manager with a big firm. I started institute with sole savings and didn't have any backup for further expenses. Whenever I felt low because of lack of fund or advertisement, my skills – Typing, Communication, Tally, Accounting, Management etc made me feel relax, that if I will be unsuccessful after 1 or 2 years, my skills won't let me down and I will rebuilt my career again.
This is the power of Skill. Don't forget, If you don't have skill, you have nothing, but if you have skill, you have capability to achieve everything by continuous upgrading the same. Tally or computer learning is often confused with skill. But my dear friend only tally can't make you skilled. You must have complete knowledge of Tally with Ad-on knowledge. For an example – If you learn to drive a car without having knowledge of rules, changing tyres etc, it won't make you able to drive along. Likewise, if you don't have complete knowledge of accounting, you can't grow after your basic job. The study pattern of Tally Brains is developed by Industry experts, research and also updated time to time with changing need. Thus, it becomes the best for skill for you and make you employable and workable too.
The most important part, it gives you a confidence to enter in the world of surviving, a world where you can prove yourself productive.
For more – please visit our fb, insta or google handles. For us #jobchahiye_tallybrains_aaiye
FACILITIES TO BE PROVIDED TO OUR VALUED FRANCHISEE
Today business is all about service. i.e. How you make your customer happy. It comes with experience and experts. Tally Brains is a panel of people from various industries with a wide experience. In tally brains we support our channel partners in all their needs.
We Help you with –
01. Establishing a new center.
02. Decoration and lay out of center.
03. Low cost advertisement
04. Searching an effective staff and getting output
05. Data base management of institute.
06. Counseling
07. Training of all staffs.
08. Extra curriculum activities.
09. Multilevel competitions